"The night is long, which never finds the day." — Shakespeare《Macbeth》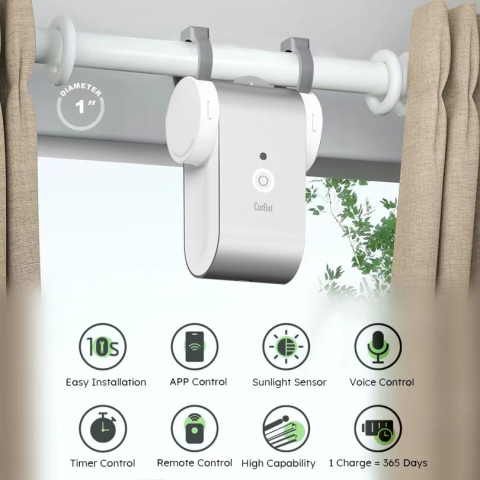 OTERa sunshine lifestyle brand, launches its latest product, the smart robot for curtains — CurBot 1Swhich implements the "Sunshine Life" concept.
For the uninitiated, smart curtains are simply blinds, curtains or shades that are controlled either via a remote control or a mobile app. Via remote control or Ui app, the user can configure a schedule of different settings or adjust their window treatment from the comfort of the couch. Smart curtains are the perfect technology for the lazy person who loves the automated life.
Shades were primarily designed to regulate the flow of sunlight into the interiors of a home. However, in this digital age, most homes are becoming smarter. The desire to control almost every aspect of the home from the comfort of the couch is driving current front-of-home innovations. One of these latest innovations is the Smart Curtain Robot. In its effort to solve lazy curtain control, OTER spent two and a half years developing its smart curtain robot, CurBot 1S.
"Every day, we control sunlight through curtains, but we often ignore curtains because we can't control them anytime, anywhere. Some people's curtain hasn't even opened," said Josh, creator of OTER. "That's why we are committed to leading all people to have a sunny life. Resist life's 'dark' moments with the positivity and optimism of the sun."
CurBot was designed with simplicity and dynamism. Compared to the curtain motor, CurBot does not require complicated installation. The user must select suitable hooks and hang the CurBot directly on the curtain rail. It only takes 10 seconds to make your smart curtains.
CurBot's simplicity is complemented by a graceful design. Creator Josh likes Eva from WALL·E. Its mission is to find the "green" of the earth, and OTER is a green technology brand. Users may note that the design source for CurBot's technological appearance is Eva. CurBot has three colors: Moon Silver, Space Gray and Skaura Pink that users can choose according to the curtain colors.
CurBot uses technology to take care of daily routines through automation. Speaking about the smart controls, Josh said: "Say goodbye to hand-drawn curtains! When you just want to be lazy or your hands are busy, our smart functions will come in handy to control your curtains. CurBot supports multiple control methods, such as APP, remote control, voice, timing, etc."
CurBot is not only smart, its portability gives it an added advantage. CurBot's body is smaller than the iPhone 14 pro. Its small body has large ears, with three pairs of "ornaments" belonging to the ears. These are specially matched hooks with different rails (Rod/I-Rail/U-Rail). When traveling/commuting, you can easily put it in your luggage.
"Our smart curtain will help you maintain a comfortable temperature inside, which can prevent furniture from aging and keep your pets and plants in a more comfortable environment," Josh said. "Plus, Christmas is coming soon, and CurBot will make a great gift for your friends and family. I look forward to everyone having a sunny life in the new year. Let your curtain become more comfortable."
To learn more about the fascinating CurBot 1S smart curtain robot, check out the OTER website at oter-group.com/
Media contact
Company Name: Otter
Contact person: Joshua
E-mail: Send email
The country: China
Website: https://www.oter-group.com/